Shaftesbury Theatre (1911-Present)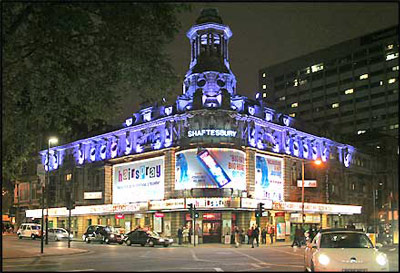 The Shaftesbury Theatre is a West End Theatre, located on Shaftesbury Avenue, in the London Borough of Camden. It was designed for the brothers Walter and Frederick Melville by Bertie Crewe and opened on 26 December 1911 with a production of The Three Musketeers, as the New Prince's Theatre, becoming the Prince's Theatre in 1914. It had a capacity of 2,392 and a stage 31' 10" wide by 31' deep.
The Prince's was the last theatre to be built in Shaftesbury Avenue, and is located near New Oxford Street, perhaps explaining the many gaps between performances in its early years. It had considerable success with an 18 week season of Gilbert and Sullivan operas, presented by the D'Oyly Carte Opera Company, in 1919. These became a regular attraction at the theatre in the 1920s, interspersed with runs of theatre productions transferred from other venues. Basil Rathbone appeared at the Prince's Theatre in May 1933 when he played Julian Beauclerc in a revival of Diplomacy. The Rose of Persia was revived at the theatre in 1935. The D'Oyly Carte returned in 1942.
The theatre was sold to EMI in 1962, and became the Shaftesbury Theatre the following year. Broadway productions that transferred to the theatre for long runs in the 1960s included Gentlemen Prefer Blondes (1962)and How to Succeed in Business Without Really Trying (1963).
Part of the ceiling fell in on 20 July 1973, forcing the closure of the long-running musical Hair, after 1,998 performances. The theatre almost fell victim to redevelopment, but a campaign by Equity succeeded in having the theatre placed on the 'Statutory List of Buildings of Special architectural or Historic Interest', and the theatre was Grade II listed by English Heritage in March 1974.
The theatre reopened with West Side Story a year later. Long runs in the 1980s included They're Playing Our Song (1980) and Follies (1987). The next decade included long runs of Kiss of the Spider Woman (1992), Eddie Izzard: Definite Article (1995) and Rent (1998). During the redevelopment of the Royal Opera House in nearby Covent Garden in the late 1990s, the theatre was booked as an alternative London venue for performances including Benjamin Britten's Paul Bunyan. A series of musicals followed.
The venue is currently owned by the Theatre of Comedy Company, who have owned the venue since 1984.
In March 2006, the 1,400 seat theatre underwent an internal refurbishment, with the entire auditorium being reseated and recarpeted and the front of house areas redecorated. Since reopening, the theatre has hosted several revivals, including the European premiere of the Tony Award-winning Broadway hit Hairspray, which opened in October 2007 and closed in March 2010. Flashdance The Musical open in September 2010 and closing in January 2011.
Production History
As the Shaftesbury Theatre (1963-Present)
| Date | Play |
| --- | --- |
| Sep 30, 2013 | From Here to Eternity, The Musical |
| Sep 27, 2012 | Rock of Ages |
| Feb 24, 2011 | Comedy Rush |
| Sep 26, 2010 | Flashdance |
| Oct 11, 2007 | Hairspray |
| May 4, 2007 | Fame |
| Aug 15, 2006 | Daddy Cool |
| Oct 10, 2005 | High Society |
| Mar 24, 2005 | The Far Pavilions |
| Aug 27, 2004 | Bat Boy: The Musical |
| Oct 21, 2003 | Thoroughly Modern Millie |
| Jun 26, 2003 | Calamity Jane |
| Sep 17, 2002 | 125th Street |
| Sep 18, 2001 | Cat on a Hot Tin Roof |
| Aug 2, 2001 | Peggy Sue Got Married |
| Oct 17, 2000 | Napoleon |
| Mar 27, 2000 | Lautrec |
| Dec 13, 1999 | Casper: The Musical |
| May 12, 1998 | RENT |
| Oct 23, 1997 | * The Royal Opera Season |
| Mar 5, 1996 | Tommy |
| Dec 19, 1996 | Return to the Forbidden Planet |
| May 16, 1995 | Harvey |
| Jan 18, 1995 | The Three Lives of Lucie Cabrol |
| Nov 4, 1994 | Out of the Blue |
| Sep 10, 1993 | Carousel |
| Oct 8, 1992 | Kiss of the Spider Woman |
| Apr 28, 1992 | A Slip of the Tongue |
| Dec 12, 1991 | The Phantom of the Opera |
| Aug 28, 1991 | Our Town, the Musical |
| Jul 7, 1992 | Re:Joyce |
| May 26, 1991 | The Kaliber Improthon |
| Mar 20, 1991 | Jeffrey Bernard is Unwell |
| Sep 28, 1990 | Out of Order |
| Apr 5, 1990 | Song and Dance |
| Apr 14, 1989 | M. Butterfly |
| Jul 4, 1987 | Follies |
| Dec 5, 1986 | An Italian Straw Hat |
| Apr 25, 1986 | Rookery Nook |
| Mar 26, 1986 | The Entertainer |
| Oct 15, 1984 | Two Into One |
| Sep 3, 1984 | See How They Run |
| Jul 9, 1984 | A Friend Indeed |
| May 10, 1984 | Pygmalion |
| Feb 8, 1984 | See How They Run |
| Mar 29, 1983 | Run for Your Wife |
| Oct 1, 1980 | They're Playing Our Song |
| Nov 28, 1979 | Irma la Douce |
| Oct 29, 1979 | Tin Pan Alley |
| Apr 24, 1979 | Canterbury Tales |
| Sep 13, 1978 | Dracula |
| Jul 14, 1978 | Godspell |
| Mar 21, 1978 | Kismet |
| Nov 30, 1977 | Drake's Dream |
| Oct 12, 1977 | Maggie |
| Jun 21, 1977 | Edith Piaf, Je Vous Aime |
| May 11, 1977 | Rolls Hyphen Royce |
| Jun 8, 1976 | Liza of Lambeth |
| Oct 2, 1975 | Dads Army |
| Dec 19, 1974 | West Side Story |
| Sep 27, 1968 | Hair |
| Oct 17, 1966 | Big Bad Mouse |
| Dec 20, 1965 | Twang! |
| Dec 22, 1964 | Our Man Crichton |
As the Prince's Theatre (1914-1963)
| Date | Play |
| --- | --- |
| Mar 28, 1963 | How to Succeed in Business Without Really Trying |
| Aug 20, 1962 | Gentlemen Prefer Blondes |
| Feb 1, 1962 | The Big Killing |
| Dec 26, 1961 | Salad Days |
| Nov 1, 1961 | * Polish State Theatre Season |
| Feb 23, 1961 | King Kong - African Musical |
| Dec 19, 1960 | * Gilbert & Sullivan Season |
| Nov 5, 1960 | * A Week of Italian Opera |
| Sep 8, 1960 | * Carl Rosa Opera |
| Jun 20, 1960 | The Laughing Academy |
| May 4, 1960 | Over the Bridge |
| Apr 19, 1960 | Johnny the Priest |
| Feb 15, 1960 | Girl on the Highway |
| Dec 22, 1959 | Noddy in Toyland |
| Nov 26, 1959 | Kookaburra |
| May 4, 1959 | * Brief Season of Municipal Theatre |
| Mar 16, 1959 | * Season of French Comedies |
| Dec 15, 1958 | * D'Oyly Carte Christmas Season |
| Aug 11, 1958 | A Hatful of Rain |
| May 10, 1958 | A Touch of the Sun |
| Mar 4, 1958 | School |
| Dec 23, 1957 | Noddy in Toyland |
| Nov 27, 1957 | Royal Suite |
| Oct 17, 1957 | Man of Distinction |
| Jun 7, 1957 | Kismet |
| Mar 7, 1957 | A Hatful of Rain |
| Oct 3, 1956 | * D'Oyly Carte Christmas Season |
| Feb 16, 1956 | Summer Song |
| Dec 24, 1955 | The Famous Five |
| Dec 23, 1955 | Noddy in Toyland |
| Feb 23, 1955 | Wonderful Town |
| Mar 31, 1954 | Pal Joey |
| Feb 9, 1954 | Alice Through the Looking Glass |
| Nov 4, 1953 | Anthony and Cleopatra |
| Aug 22, 1953 | Age of Consent |
| May 23, 1953 | Happy as a King |
| Apr 14, 1953 | Stalag |
| Feb 13, 1953 | The Shrike |
| Dec 20, 1952 | Where the Rainbow Ends |
| Jun 2, 1951 | Man and Superman |
| Mar 14, 1951 | The Seventh Veil |
| Oct 31, 1950 | Party Manners |
| May 23, 1950 | His Excellency |
| Mar 25, 1950 | Detective Story |
| Nov 15, 1949 | Lady Audley's Secret |
| Oct 10, 1949 | Buoyant Billions |
| May 17, 1949 | A Man About a Dog |
| Sep 30, 1948 | The Kid from Stratford |
| Feb 25, 1948 | Burlesque |
| Oct 8, 1947 | The Dubarry |
| Jul 15, 1947 | the Nightingale |
| Mar 17, 1947 | Peace Comes to Peckham |
| Sep 6, 1945 | Merrie England (Operetta) |
| Mar 1, 1945 | Three Waltzes |
| Apr 20, 1944 | The Love Racket |
| Feb 17, 1943 | Old Chelsea |
| Aug 6, 1942 | Wild Rose |
| Jun 8, 1942 | * Gilbert & Sullivan Season |
| Aug 21, 1941 | Fun and Games |
| Aug 17, 1939 | Sitting Pretty |
| Mar 27, 1939 | When We Are Married |
| Jul 31, 1936 | The Gusher |
| Apr 11, 1936 | The Frog |
| May 14, 1935 | Gay Masquerade |
| Apr 1, 1935 | The Alchemist |
| Feb 28, 1935 | The Rose of Persia |
| Sep 6, 1934 | Merrie England |
| Mar 8, 1934 | Sweet Nell of Old Drury |
| Aug 29, 1933 | The Wandering Jew |
| May 27, 1933 | Diplomacy |
| Dec 26, 1931 | Peg o' My Heart |
| Oct 20, 1931 | Henry the Ninth |
| Dec 24, 1929 | A Warm Corner |
| Nov 27, 1929 | The Flying Fool |
| Nov 28, 1928 | Funny Face |
| Jul 27, 1928 | Contraband |
| Sep 28, 1927 | Compromising Daphne |
| May 5, 1927 | The Medea of Euripides |
| Mar 4, 1927 | Angela |
| Feb 23, 1927 | The Greater Love |
| Dec 24, 1926 | Macbeth |
| Nov 29, 1926 | The Yeomen of the Guard |
| Nov 22, 1926 | Princess |
| Nov 15, 1926 | Ruddigore |
| Nov 8, 1926 | Cox & Box |
| Nov 8, 1926 | H.M.S. Pinafore |
| Sep 20, 1926 | The Mikado |
| Jul 28, 1926 | Down Hill |
| May 20, 1926 | Secret Service |
| Dec 21, 1925 | When Knights Were Bold |
| Sep 18, 1925 | White Cargo |
| Jun 14, 1925 | Mango Island |
| Apr 23, 1925 | Frasquita |
| Mar 8, 1925 | Tunnel Trench |
| Dec 24, 1924 | Alf's Button |
| Oct 11, 1924 | The Blue Peter |
| May 12, 1924 | The Yeoman of the Guard |
| May 5, 1924 | The Sorcerer |
| Apr 28, 1924 | H.M.S. Pinafore |
| Apr 28, 1924 | Cox and Box |
| Apr 14, 1924 | The Mikado |
| Mar 31, 1924 | Patience |
| Mar 24, 1924 | Trial by Jury |
| Mar 10, 1924 | The Gondoliers |
| Mar 3, 1924 | Princess Ida |
| Feb 18, 1924 | Ruddigore |
| Jan 9, 1924 | Iolanthe |
| Oct 9, 1923 | The Return of Sherlock Holmes |
| Feb 24, 1923 | The Cousins |
| Jul 3, 1922 | Le Grand Duc |
| Jun 26, 1922 | Jacqueline |
| Jun 19, 1922 | L'Illusioniste |
| Jun 19, 1922 | Le Misanthrope |
| Jun 12, 1922 | Pasteur |
| Jan 22, 1922 | H.M.S. Pinafore |
| Jan 22, 1922 | Princess Ida |
| Dec 19, 1921 | The Mikado |
| Dec 5, 1921 | The Yeomen of the Guard |
| Nov 28, 1921 | Cox & Box |
| Nov 28, 1921 | The Sorcerer |
| Nov 14, 1921 | Patience |
| Oct 24, 1921 | Ruddigore |
| Oct 17, 1921 | Trial by Jury |
| Oct 3, 1921 | The Gondoliers |
| Sep 6, 1921 | The Knave of Diamonds |
| May 9, 1921 | Arsene Lupin |
| Apr 26, 1921 | Le Coeur Dispose |
| Apr 4, 1921 | Daniel |
| Feb 1921 | The Blue Lagoon |
| Dec 20, 1920 | Charley's Aunt |
| Nov 23, 1920 | Columbine |
| Sep 16, 1920 | The Man Who Came Back |
| Aug 3, 1920 | * Gilbert & Sullivan Season |
| Feb 17, 1920 | Pretty Peggy |
| Jan 13, 1920 | The Sorcerer |
| Jan 6, 1920 | Trial by Jury |
| Dec 30, 1919 | Princess Ida |
| Dec 1, 1919 | The Yeoman of the Guard |
| Nov 24, 1919 | Patience |
| Nov 3, 1919 | The Mikado |
| Oct 20, 1919 | Iolanthe |
| Sep 29, 1919 | The Gondoliers |
| Apr 19, 1919 | Monsieur Beaucaire (Opera) |
| Feb 14, 1919 | The Officers Mess |
| Nov 29, 1918 | Jolly Jack Tar |
| Feb 27, 1918 | The Girl and the Puppet |
| Dec 17, 1917 | Carminetta |
| May 2, 1917 | Good News |
| Feb 17, 1917 | The Catch of the Season |
| Dec 2, 1916 | Bluebell |
| Sep 6, 1916 | Broadway Jones |
| Sep 9, 1915 | When London Sleeps |
| Jul 26, 1915 | For England Home and Beauty |
As the New Prince Theatre (1911-1914)
| Date | Play |
| --- | --- |
| Dec 26, 1914 | On His Majesty's Service |
| Nov 15, 1914 | The Merchant of Venice |
| Oct 17, 1914 | Cheer Boys! Cheer! |
| Aug 1, 1914 | Queen at Seventeen |
| Dec 20, 1913 | The Story of the Rosary |
| May 12, 1913 | Brewster's Millions |
| Mar 22, 1913 | Romeo and Juliet |
| Feb 5, 1913 | The Indian Mutiny |
| Oct 9, 1912 | The Adventure of the Count de Monte Christo |
| Jul 3, 1912 | Ben-My-Chree |
| Jun 10, 1912 | The Monk and the Woman |
| Apr 17, 1912 | The Apple of Eden |
| Feb 7, 1912 | Woman and Wine |
| Dec 26, 1911 | The Three Musketeers |
Additional Events, Concerts, Stand-Up Comics
| Date | Event |
| --- | --- |
| Mar 6, 2013 | Burn the Floor |
| Jun 8, 2011 | Derren Brown's "Svengali" |
| Jul 21, 2010 | Burn the Floor |
| Nov 12, 2001 | Umoja - The Spirit of Togetherness |
| Apr 17, 2001 | Baddiel and Skinner |
| Jul 9, 2000 | Chubby Brown |
| Apr 22, 1997 | Sinderella |
| Oct 10, 1995 | Eddie Izzard: Definite Article |
| May 5, 1995 | Pavarotti International Voice Competition |
| May 3, 1995 | Neil Sedaka |
| Apr 2, 1995 | Laurence Olivier Awards |
| Mar 16, 1995 | Global Mission - Billy Graham Evangelical Meeting |
| Feb 13, 1994 | Dear Ralph - a Valentine Gala |
| Nov 8, 1993 | Angels of America |
| Mar 25, 1990 | Stars Celebrate the Musical / Tribute |
| Mar 12, 1990 | French and Saunders |
| Mar 13, 1989 | Eartha Kitt |
| 1986 | Comic Relief |
| Apr 20, 1986 | Night of 100 Stars |
| Dec 16, 1983 | Aladdin (Panto) |
| May 7, 1962 | England our England - Revue |
| Mar 7, 1960 | Ram Gopal and Markova |
| Jan 20, 1958 | Rumanian National Dance & Music Company "Giulesti" |
| Dec 18, 1957 | Season of Danish Pantomime Theater |
| Mar 1957 | Ukranian State Cossack Company |
| Oct 31, 1956 | Luisillo and his Spanish Dance Theatre |
| Sep 28, 1956 | Variet Theatre of China |
| 1955 | Don Giovanni Film Screening |
| Dec 23, 1954 | Toad of Toad Hall (Panto) |
| Nov 4, 1954 | Japanese Ballet of Miho Hanayagui |
| Dec 21, 1953 | Podrecca's Piccoli Theatre |
| Oct 19, 1953 | The Vienna Ballet |
| Sep 22, 1953 | Walter Gore Ballet Company |
| Sep 20, 1953 | Old Carthusian All Star Concert |
| Nov 17, 1952 | Maurice Chevalir - In concert |
| Dec 21, 1951 | Cinderella (Panto) |
| Dec 4, 1951 | Uday Shankar and Amala Troupe |
| Oct 31, 1951 | Dark Rhythms - Pear Primus and Her Co. |
| Feb 12, 1951 | The Swedish Ballet Season |
| Dec 23, 1950 | Mother Goose (Panto) |
| Dec 22, 1949 | Dick Whittington (Panto) |
| Sep 26, 1949 | Variety Bill - Jane Russell |
| Apr 25, 1949 | Ballets de Paris de Roland Petit |
| Apr 4, 1949 | The Amazing Ralph Slater - Hypnotist |
| Mar 21, 1949 | Mariemma and Enrique Luzuriaga |
| Feb 16, 1949 | Ballets de Paris de Roland Petit |
| Dec 23, 1948 | Babes in the Wood (Panto) |
| Aug 31, 1948 | Les Ballet des Champs Elysees |
| Jun 15, 1948 | Carmen Amaya and Dancers |
| Apr 10, 1948 | Helzapoppin |
| Dec 24, 1947 | Babes in the Wood (Panto) |
| Nov 24, 1947 | Ram Gopal and his Indian Dancers and Musicians |
| Feb 16, 1947 | Green Room Rags - Revue |
| Sep 26, 1946 | The Shepherds Pie (Variety) |
| Sep 27, 1944 | Sadler's Wells Ballet Season |
| Aug 7, 1944 | Sadler's Wells Opera Season |
| Dec 8, 1943 | Halfway to Heaven (Variety) |
| May 27, 1943 | Magic Carpet (Variety) |
| Dec 26, 1939 | The Shepherds Pie (Variety) |
| Dec 26, 1938 | The Band Wagon (Radio Play) |
| Apr 13, 1938 | Wild Oats (Revue) |
| Dec 27, 1936 | Cinderella (Panto) |
| Dec 20, 1933 | On With the Show (Revue) |
| Dec 23, 1927 | Bits & Pieces (Revue) |
| Jun 27, 1927 | Concert - Conducted by Igor Stravinsky |
| Jun 13, 1927 | Serge Diaghaleff's Ballet |
| Dec 11, 1923 | 5th Annual Sunshine matinee (Variety) |
| May 8, 1922 | Harry Lauder (Variety) |
| May 29, 1921 | Serge Diaghaleff's Ballet |
| Jul 6, 1920 | The Walpurgis Night the Fairy Doll (Ballet) |
| Jul 6, 1920 | Divertissements (Ballet) |
| Nov 2, 1915 | Lila Fields Matinee |
| Dec 26, 1912 | Cinderella (Panto) |